A Night at the Opera – Un Ballo in Maschera (A Masked Ball)
October 20 @ 5:45 pm

-

11:30 pm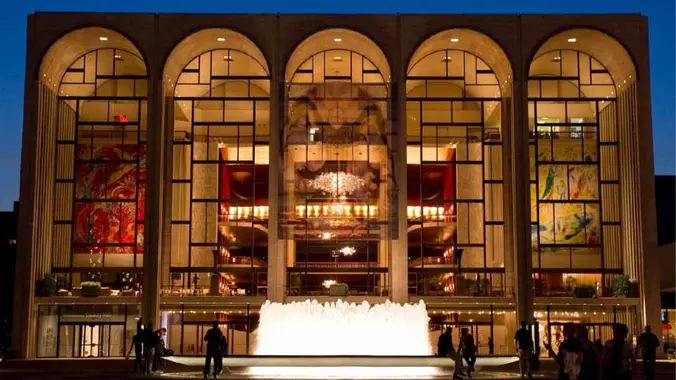 Opera season at the fabulous NYC MET Opera in Lincoln Center has commenced once again! And so, once again, in response to popular demand, especially of those who attended the 'Night at the Opera" back in June, here is a second "Night at the Opera" complete with pre-performance supper. As with that initial "Night…" back in June, this is an opportunity to see – and experience – one of the world's most famous and prestigious opera companies perform in one of the world's grandest and most spectacular opera houses! In fact, it is an opportunity to see just how "damn lucky" we are to be living here in the greater New York and New Jersey area!
The opera on the bill is appropriate for the coming of Halloween – Giuseppe Verdi's "Un Ballo in Maschera" or "A Masked Ball," being performed on Friday, Oct. 20, at 8:00 PM. Here is the plot synopsis: https://www.metopera.org/discover/synopses/un-ballo-in-maschera/. The cost of a ticket in the Family Circle section, where our group will be sitting, is $45 ($35 + $10 service charge).
So, anyone who is interested in joining in on this classy and festive event in Fun City, can RSVP here AND send $45 by Venmo to @Opera-Night-101. Tickets for MET operas SELL FAST, especially in the "economical" Family Circle section, so, to ensure that our group will get the best seats available, tickets will be purchased for the group of participants who submit their payment by Friday, Sept. 29. After this date, payments will no longer be accepted and the people who did not make payment by the Sept. 29 deadline will have to buy tickets on their own and, so, they will not be sitting with the rest of the group. So, don't delay – RSVP and PAY today!
Before the opera, at 5:45 PM, we'll meet at the Hummus Place (https://www.hummusplace.com/) for a "pre-opera supper." Participants are encouraged to "dress smart," e.g., no t-shirts, jeans and/or flip-flops, but, "black tie" and "evening gowns" are not required either.
Though driving into Manhatten for this event is possible, it is not recommended due to the high volume of traffic and problem with finding parking on the street (in addition, parking lots and structures are fairly costly). The event host will head a "train pool" that will take the train from Newark Penn Station to New York Penn Station and, then, the #1 Subway to the 72nd St. metro station which is near the Hummus Place restaurant.