Historic Bethlehem & Lehigh University
September 24 @ 11:20 am

-

5:30 pm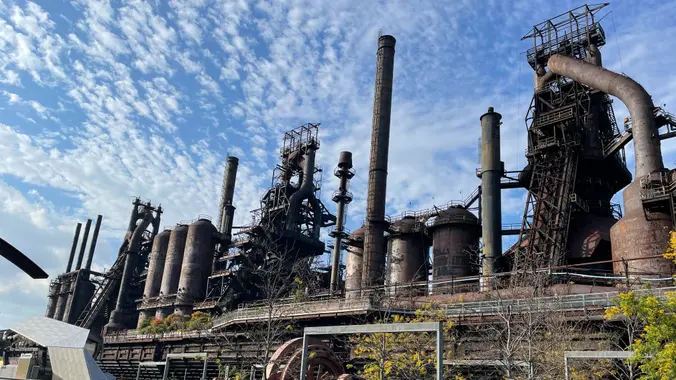 **Distance:** 10-11 miles, loop from/to Bethlehem Steel on flat trails and roads, moderate pace walk.
2 drop out points (6mi, & 8.5mi)
**Walk:**
As a city known for its rich colonial and industrial history Bethlehem has been included on the Reader's Digest list of the "15 Most Underrated American Cities Worth a Visit."
Join me for this nice end of summer walk to explore this historical city at Lehigh Valley.
* Steels Stacks
* Moravian Museum/Bell House
* Waterworks/Dye House
* Burnside Plantation
* Historical Bethlehem Station/The Wooden Match
* Lehigh Valley Railroad Building
* Lehigh Riverport Condominium Association
* Banana Factory Arts and Education Center
* Lehigh University Campus
* D&L Trail Towpath
**​**
**Meet**
Front door of The Outlets at Wind Creek
77 Wind Creek Blvd, Bethlehem, PA 18015
40.614452, -75.360200
​
**For those willing offering a ride**, please leave a detailed message where and when you can pick up others.
**If coming from NYC by public transportation**, there 2 options:
1.
https://transbridgelines.com/wp-content/uploads/2022/04/Wind-Creek-Schedule-4_18_22.pdf
Take 9:30 am Trans-Bridge Lines Bus at Port Authority Bus Terminal to Wind Creek Bethlehem around 11:15am
round-trip tickets SPECIAL SAME-DAY FARE $50.00:
Round-Trip Excursion tickets are available in New York's Port Authority Bus Terminal (PABT) at the New Jersey Transit Ticket Windows 1-10.
The Trans-Bridge Lines bus is scheduled to leave from Gate #4 or #6 but check at the ticket counter to confirm.
back to NYC bus 5:50pm
2. https://decamp.com/casino-services/bergen-hudson-route/
**Suggest bringing:**
water, sunscreen, snacks, bug sprays and lunch.