Stairway to Heaven: Pochuck Valley to Pinwheel Vista
August 21 @ 1:00 pm

-

4:00 pm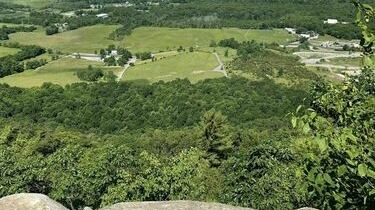 Gorgeous and diverse section of the Appalachian Trail through northern NJ.
Hike boardwalks, a suspension bridge, hardwood forest, fields of wildflowers, train tracks, a cow pasture, a boulder field… before steeply climbing the "Stairway to Heaven" to one of the best viewpoints in NJ: Pinwheel Vista.
The Kittatinny Mountains are visible in the distance, farms in the valley below, and on a clear day, High Point Monument.
Moderate. Trail surface ranges from super-duper-easy-peasy boardwalks to flat, hardpacked to dirt to serious rocky sections. The "Stairway to Heaven" is a series of rock slab steps switchbacking up Wawayanda Mountain.
Hike Info:
–Trail Map (http://www.amazon.com/dp/1880775840/?tag=njhiking-20)
–Park info (http://njparksandforests.com/parks/wawayanda.html)
–Google Map (https://www.google.com/maps/ms?ie=UTF8&hl=en&msa=0&ll=41.222762,-74.463015&spn=0.030988,0.044975&z=15&msid=100669985122335639090.00048cf03ec079623cc4d&dg=feature)
7.4 miles – The route we took, described below.
2.0 miles – Super-duper easy – only walking the boardwalk section and back.
2.5 miles, steep – Stairway to Heaven only. Start at the lot on Rt 94 instead.
Longer – The Appalachian trail continues in both directions for hundred of miles….
Note: This is a popular area – everything from people taking a casual stroll to AT thru-hikers – so don't expect solitude. Most people were on the boardwalk section in the beginning, or on the section from the lot on 94 to Pinwheel Vista.
Map: #116 of the North Jersey Trails (http://www.amazon.com/dp/1880775840/?tag=njhiking-20) map set.
Books: Hiking New Jersey (http://www.amazon.com/dp/0762711191/?tag=njhiking-20) has a detailed description and a diagram of the 7.4 mile route. Hiking the Jersey Highlands (http://www.amazon.com/dp/1880775492/?tag=njhiking-20) has the popular short route (only 2.5m roundtrip) from Rt 94 parking up to Pinwheel.
Parking: N41 14.084 W74 28.852 (http://www.google.com/maps?q=N41+14.084+W74+28.852&hl=en&sll=40.398235,-74.392183&sspn=0.01541,0.018582&t=h&z=17) [Pochuck parking]
Rt 287N to exit 52B for Rt. 23 Butler. Follow 23 for awhile to 515N. Left onto 644 (Vernon Crossing). Right on 517.
There will be a sign with hiker symbol on it, then another to denote the parking. Parking is on the right side of 517, just before you reach Carol Drive, along the road. Parking room is limited – somewhere between 10-12 cars perhaps. There is a slight path along the road, follow that to a trail kiosk and turn right onto the start of the boardwalk.
Route 94 Parking lot, closer to vista: N41 13.169 W74 27.305
Restrooms: None. Gas stations in Butler, or in Vernon.