Totts Gap to Wolf Rocks on the Appalachian Trail
July 31 @ 1:00 pm

-

4:00 pm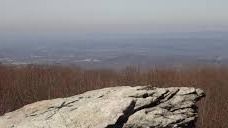 Hike Description:
Appalachian Trail thru-hikers refer to Pennsylvania as "Rocksylvania" because of the amount of jagged, sharp, toe stubbing and ankle twisting rocks on the walking surface. This portion of the Pennsylvania Appalachian Trail is surprisingly smooth with just a few short rocky sections scattered throughout. Although there is very little elevation change along this ridge hike other than the initial ascent, expect a scramble over jumbled boulders and ledges to reach Wolf Rocks at the end before heading back.
Start the hike by walking beyond the gate where Totts Gap Road becomes a gravel access drive for the communications tower at the top. There will be no blazes along this road. This will be the most elevation gain in one stretch, about 300 feet in a quarter of a mile. Almost at the top, continue straight through an intersection with another a gravel road on the left and a woods road on the right. A short distance farther uphill brings you to the crest of the rise with the Appalachian Trail crossing over the gravel road. Turn right here and follow the white blazes that will guide you through this entire hike. The uphill climb continues just little more through the woods. The trail then levels out and proceeds through two power cuts where you can catch a little preview of the views to come through the towers and lines.
Lunch Rocks Vista of Mount Minsi and Mount TammannyAround the 1 mile point, when the trail becomes noticeably rockier and makes a very short rocky ascent, watch for a side trail to the left at the top of this rise which leads a short distance to Lunch Rocks. From this rock outcrop you can look north and see the communications tower at Totts Gap where you just came from, Mount Minsi behind the tower and Mount Tammany, NJ just the other side of Mount Minsi. If it's early in the morning and hazy, you'll have a second chance at a better view on your way back in a few hours.
Continue on another .85 mile to a wide grassy clearing, Nelson Overlook, with panoramic views to the east. A short distance ahead a blue-blazed side trail on the right leads to the Kirkridge Shelter. This trail continues beyond the shelter and meets back up with the Appalachian Trail in .15 mile. Nelson Overlook
Arrive at a large kiosk in Fox Gap at the 2.6-mile point. A little farther ahead go to the left of the guardrail and cross over Route 191. Proceed through an Appalachian Trail parking lot. The next mile and a half will consist mostly of woods roads, again fairly rock-free. The rocks may have been used to build the crumbling stone walls sometimes visible along the woods roads. The smooth woods roads will come to an abrupt end when you look up to see a wall of jumbled rocks and boulders looming ahead.