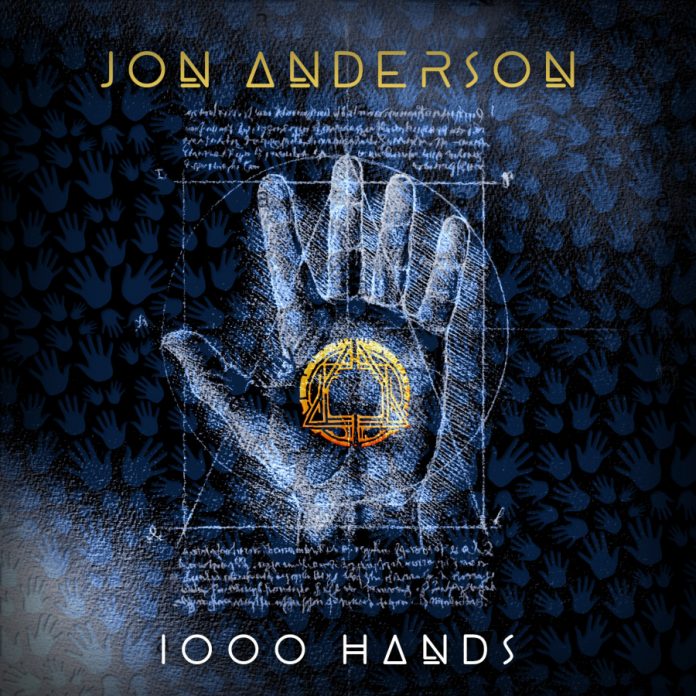 It's been a while since fell into a Jon Anderson solo album. And not that this is in any way Jon's fault. It's always an event when Jon has new music released that he is involved with. I believe I have his entire music catalog or a large chunk of it. Two CDs that I have of Jon's are autographed, in which one I got in person. The other was a pre-sign that I purchased at one of his solo concerts.
My past interactions with Mr. Anderson and there have been a few (always to my delight) have all been unforgettable, positive experiences.
Saying all that, I was asked here recently if I would be interested in an advanced digital of Jon's newest creation; 1000 Hands. I said YES, in a flash. It arrived in my email that day accompanied by a well-written, press release.
Extra Extra Read All About It
Jon Anderson – 1000 Hands, is a studio album that during the making of, involved hundreds of people, hence the title: 1000 Hands. Assuming that each person involved had both their hands intact, that would mean, in the case of Jon's new album, that 500 people were involved. Would that also include the Fed Ex people and whoever made the coffee? Without them?
On human beings, hands come in pairs. Unless, there were some one-handed people involved, which would mean the number of them would have to be an even number, for this all to work out numerically. In a timespan of, 3 decades (or something close to that). Since a time called, the 1990s. I had the majority of my teeth back then. Back to Jon. A lot of this time involved the tapes being stored in boxes in a garage. Things of greater importance in Jon's life would happen, and the project gathered dust.
Recently Jon picked up a new record label, Blue Élan Records. They hail from the always usually sunny, Los Angeles (California, USA). Their first project together and in perfect harmony, a proper worldwide release of; Jon Anderson – 1000 Hands (2020). Before this, a kind of limited trial run in which is said to have sold out of physical inventory. Now a collector item. Selling out of inventory is a good indication that there might be something to this. Sadly, so the story goes, when everything was together and this was being shopped around to music labels, nobody was that interested. I took a poke as to why. Ageism? I wonder to myself, I say:
"Self, was Jon Anderson discriminated against directly because of his age?"
You see, what we have here is, a failure in opportunity. For the fools, and I say that not wanting to talk bad about people but DAMN. A missed opportunity for them. A smart business decision for Blue Élan Records. Fore I imagine, they had people who were familiar with Jon Anderson's career. As of this date, the dudes peaking as far as output goes, and it's abundantly clear, age-wise, Jon is into his seventh decade of existence. Experience out the ass, in which if I remember right, Bill Bruford said that Jon didn't have much of one. A drummer's view when playing live. The drums, as a rule, set up towards the back of the stage. What the drummer typically sees besides his drums is when looking out; a sea of asses. On stage. Everybody is facing the audience. That according to Yes' original drummer. Not to be confused with, Alan White. A whole other person. The other guy, Bill Bruford, who quit Yes, and then joined the mighty King Crimson. Ended up having a wonderful career in that band, and as a professional musician, in general. The brilliant drummer and percussionist since abruptly quitting the group, still on occasion has rejoined his YesMates; Union Tour – ABWH (Yes spin-off) and being inducted with the band at the RnRHoF. A scholar. A professor. And a self-confessed authority on human asses.
What I care about most is not what one looks like physically when I am doing a music review. Also, the personal life of whomever, never comes into account, hardly ever. That can frighten me away. Some people just rub me the wrong way, and thus I have no interest in anything they do. I'd rather it not be that way.
At times, my writing is a one-way street. My way or thanks anyway. The archival website I maintain has close to, 180 entries. What counts I believe, is results.
I admit that I can be difficult to work with. I sometimes don't play well with others. Extreme opinions. Nicest guy ever. Would not harm a fly. A self-confessed midnight toker. Loves when opportunity knocks, just so to point out to the general public, that a person(s) was, wrong? Remember my mention of the record labels that declined, Jon's 1000 Hands? Even after having a successful test run? Send in the fools. Their first and now their only assignment, for the rest of their lives, is to listen to teen singers using vocoders, with lyrics about pimple removal and smelly feet.
Taking for granted that you are still interested, in either Jon's new album, what I sprew, or both, I feel that Jon's '1000 Hands' should have a worldwide appeal and that in comparison to his other solo efforts, that it ranks right up there with his best efforts.
For one, Jon is totally in his element on this more celebrated release. I've been watching and reading the new interviews. There is an excitement in the air. And it's not only this forgotten project finally seeing the light of day. Jon has a tight new band to work with. Talented musicians looking for an opportunity like this to perform with one of rock n' roll's most distinctive voices. Music that allows Jon to be heard. The flip side is all the experience this man has and knowing when to just let the music do its thing. Percussion and rhythm that awakens the soul. More than just the average guitar, bass, and drums. Music that the whole world can enjoy, even in this, the darkest of times; COVID-19.
Uplifting. All you need is love…wait…I heard that before. A never-ending message of hope faith, and love, that honestly, I think should fall on more ears. The point of my typing all this, is to alert the masses to just how solid a recording (album/cd/digital) this turned out to be.
I'm sorry I missed seeing a performance from Jon's last tour (2019). There was a Las Vegas show, and I was too broke from having just moved here. The clips and videos from that tour, are wonderful to see for an old fan of Jons like myself. Especially the '1000 Hands' material. And here's why…
"Uncle G" DISCUSSES…Jon Anderson – 1000 Hands (2020 Blue Élan Records)
So we are all on the same page…I play albums from start to finish. Hearing songs, in the order. Very important doing so with, 1000 Hands. I'll explain why.
What you first hear after pressing play, is a burst of sound. About 14 seconds into it, you hear the singer's voice. The lyrics in which Jon wrote about, speak of unity. My guess. Sometimes, and I'll admit, that I am puzzled with what the lyrics to Jon's songs are sometimes all about. I'm kind of certain about this one. Not a lot of words. Jon's voice is perceived to be a musical instrument, as well as a vehicle for thoughts and ideas. The short song itself is strong and powerful. Jon Anderson is a poet. A craftsman with words. The opening track also is revisited throughout; track 6 (Now Variations) and in closing (Now and Again).
Close your eyes and pleasantly discover that what you hear is the voice you are familiar with. Those being with Jon on his musical journey, understand growing older. A lot of professional singers that are around Mr. Anderson's age today are retired. A nice way of putting it, sometimes. For some, the hard reality is that as they aged, they became incapable of sounding even similar to how they did in their youth. The truth sometimes sucks through a long paper straw. It is what it is. Sad to hear of others losing physical abilities that others might have enjoyed, or in which employed them. In Jon's case; Divine interaction? So far, even after a near-death experience years ago, he's a lucky man. Oh, wait…that was Greg Lake (who was another fabulous singer from the world of rock n' roll; RIP). Nowadays, Jon Anderson seems to be doing well. From all outward appearances. Only Janee, his wife since 1997, who he always speaks so highly of, and perhaps his hairstylist would know for sure. Maybe his grown children? His publicist would certainly know something. STOP!
Is Jon's newest, 1000 Hands…Animation: Part 2? For those unaware, that is a favorite studio album of mine from Jon's catalog of solo endeavors. And yes, because of the energy level it reminds me of 1982s Animation. I also hear glimpses of Yes – Big Generator (1987) and Yes – The Ladder (1999).
From here on out, the album, 1000 Hands, is a musical adventure to behold. Maybe because of all the different musicians who are on the album? Jon's superb live band is just that, a live band. Helps him better promote the music in concert and newly recorded video promotions. Great in the studio as well I assume; Chapter Two. Believe me, this studio record holds all kinds of tales. Includes musical superstars! A thousand hands, remember? Some, unfortunately, are no longer among the living. A lot can happen in three decades.
Each musician involved giving top-notch performances. One example; Ian Anderson, best known as the leader in Jethro Tull. Ian's flute playing jumps out of the speakers at you, and mesmerizes throughout a masterful progressive rock number entitled; Activate. The longest song on the album, clocking in at almost nine and a half minutes. One characteristic of a stereotypical prog-rock tune. Nothing ordinary here. Activate, is flawless! If I had a favorite track on 1000 Hands, this might be it. The number also includes; Robbie Steinhardt (ex-Kansas), Chris Squire, Larry Coryell, Steve Morse (Deep Purple), and Pat Travers.
Behind the scenes, it was people like Grammy-nominated producer Michael T. Frankin, who helped Jon make, 1000 Hands, a reality. This took time as well, but finally, there has now been a proper release. Too bad it's in the middle of the COVID-19 crisis. The band Yes almost 19 years ago, released Magnification, the last studio with Jdersonon An Anderson on vocals. That happened on September 11, 2001. Life, no matter when sad or tragic events occur, tends to keep going forward. It doesn't mean there can't be good times ahead. And Yes – Magnification, by the way, is a very good album. Deserved more attention than it got.
Musical moods shift throughout, 1000 Hands. Upbeat, or peaceful with a violin or a piano playing the introduction. Strings or horns. Jazz fusion. Jamaican Reggae. Music for the world, with a rock foundation. Brought to us by an inducted Rock n' Roll Hall of Fame singer, lyricist, poet, and multi-instrumentalist, and his many cool friends. I would describe 1000 Hands as a rock n' roll album, under the progressive rock umbrella. Contains all the creative elements of Jon, that his followers all like.
Stand Out Compositions
Track two, Ramalama, and the playfulness of track five; Makes Me Happy. That one includes guitarist Rick Derringer. Add track nine; WDMCF (Where Does Music Come From). And the second to last song is tasty as hell. It's the title track; 1000 Hands (Come Up). A bunch of well-known players on that one including Chick Corea and Jean-Luc Ponty. Heavy hitters in their worlds.
The closing number is part of the loop, I previously mentioned. Again, so many guest stars. The other members of Yes, besides Jon, have always fascinated me as well, with their musical abilities. I threw out Chris Squire's name (RIP), and on drums, one can find Alan White's name in the credits as well. Also, a guy Jon wrote some of  Yes' most memorial songs with, guitarist Steve Howe, contributes as well. Jon's lyrics certainly match the occasion.
"Uncle G" RATES…Jon Anderson – 1000 Hands (2020 Blue Élan Records)
Using the 5-star rating system in which one star means its slightly worse then Yes – Union (1991) or Yes – Open Your Eyes (1997) to 5 stars in which I would compare with Yes – Relayer (1974) or Yes – Fragile (1972), "Uncle G" rates the 2020 release, Jon Anderson – 1000 Hands…5 Stars!
If just referring to Jon's solo work, I would say for myself, if I was to do a Top 5 of Jon's albums, this would be in there. I strongly recommend not only buying '1000 Hands' but making sure to listen to it in its entirety, on a good pair of headphones, if the opportunity arises. Play the studio recording from track one to its finish. Try not to be distracted. You'll hear sound effects like birds. A good stereo mix. If you find you have the extra time, press play again when done. Relaxing and soothing, even when rocking out. Follow along; printed lyrics. Now you are getting your money's worth.
Helpful Websites
Jon Anderson 1000 Hands: www.jonanderson1000hands.com
Jon Anderson (Official Website) – www.jonanderson.com
Promotion: Glass Onyon PR (William James) – www.glassonyonpr.com 
Blue Élan Records – https://www.blueelan.com/