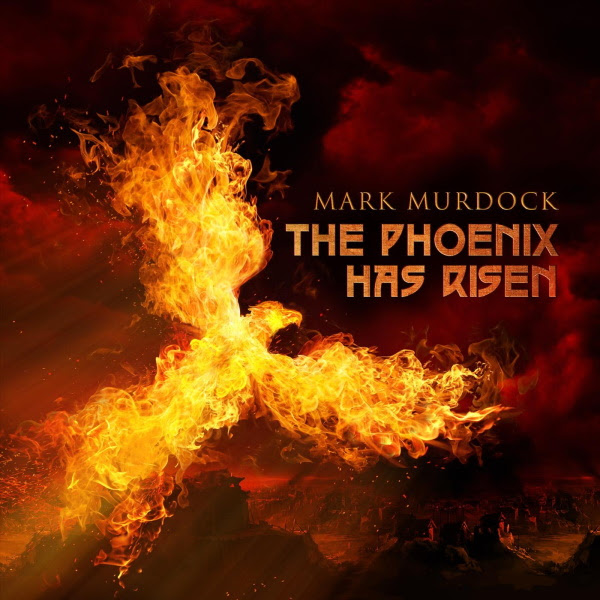 MeWe or Twitter @GBrown0816
I really enjoy the intro to this new studio album by musician, Mark Murdock. It's catchy and upbeat. A rock song. Right away I notice that I can hear all that is going on, drum-wise. The same with the bass. Evidence of good production values. The song is pretty infectious. I want to hear more!
Mark always seems to have some kind of musical project, that he's working on. Put his name in the search engine on my archival website, and you'll get more than one result. A multi-instrumentalist/song songwriter with a lot of coals in the fire. I'm guessing that the idea for this recording had sprung. Maybe a few things were worked out? And then came the pandemic. This certainly kept Mark busy, while staying safe, and being stuck indoors. Mark's inside world by the way is located in, Japan. A lovely country in which I would be honored to visit, and see its unique sights one day.
The name of the first tune you hear is also the name of the album; The Phoenix Has Risen. I believe it's title symbolic of better days ahead. That and Mark use to live in Phoenix, AZ (USA) decades ago. For now it's I who choices to live in the desert.
The Phoenix Has Risen – Words and Music by Mark Murdock (except…scroll down)
As I already indicated, I've written about Mark before. An interesting man, and a life-long dedicated professional musician. One highlight of his career was being Peter Banks drummer in a band called, Empire. Years later and Peter and I are working together on a newsletter about his career. One of those Yahoo Group things that were popular in the late 20th century. Mark subscribed. He sent me an email introducing himself, and we've been friends ever since. Writing does have its perks.
"Uncle G" Discusses…Mark Murdock – The Phoenix Has Risen (2020 Forward Motion Records)
Twelve songs that include engaging lyrics voicing an optimistic view of the world. The result is a mix of traditional progressive and album-oriented rock. In parts a gentle flow, that holds one attention. In other moments, a groovier jazz-fusion flow. And it rocks. Never a boring moment, and for the listener, something noteworthy, an adventure that should stimulate all the inner complexities of the human ear, sending to the brain positive vibes, thus providing for a pleasurable audio experience.
I confess that several times while listening to the digital reviewers' copy, that I smoked a few bowls of cannabis. And then it happened. I started hearing what I thought was music leaning towards the land of Genesis (the band). Now, these ears are getting older. If asked why I drifted off there, I would point towards the singer(s) and more than one, musicial interlude. The early Peter Gabriel lead Genesis material and then the tunes Phil Collins did early when he started venturing away from the band. Was all very interesting to ponder. Oh, and I might have eaten a few extra meals while compiling notes, because the marijuana, probally gave me the munchies. That usually occurs after partaking a little. Good thing there is a gym, a mile from where I stay.
A Few Quick Facts
Mark Murdock, along with Joe Berger, mixed and mastered; The Phoenix Has Risen.
Artwork is by Synergy Design/Leon Alvarado.
Guest Musicians include drummer Ron Howden of Nektar, who plays on two tracks, and then a young man that I have been getting to know his work, the last few years, who could be found on three compositions, prog-rock musician extraordinaire, Fernando Perdomo.
Speaking of Fernando, his lead guitar playing blew me away on; The Starfish and the Four Phases of the Moon. Of course, the other players included also helped it sound like something cool Jeff Beck might do. Solid drums (Mark) – bass (Rodolfo Falora) – keyboards (also Mark) and Tatsuo Inoue on rhythm guitar. I love it!
Mark's son Preston Murdock plays lead guitar on two songs. One is, Compromised, in which completely smokes! A stand out track. Preston's worthy of paying close attention to. A young man in his early 20s who has a bright future in front of him. If ever doing a gig in Las Vegas, I'm already looking forward to him comping me a meal and a show (wink-wink plus one). Oh…and I can add that Preston has a new EP out, that's receiving a lot of nice critical praise lately, so you might want to check that out; Mars Daniels – Preston Murdock – Last Call (EP) – cover design again by long time Houstonian and a Facebook friend of mine; Leon Alvarado (Synergy Design).
Bassist Alan Thomson, who played with John Martyn and currently the Martin Barres Band, U.K. vocalist Tim Pepper and Joe Berger lead guitar.
Mark Murdock – The Phoenix Has Risen is currently available on all digital platforms. Physical release through; Disk Union Japan.
Mark Murdock was in a Godzilla movie. No shit! Nothing to do with what the main focus of this story is, whatsoever. Just something else one might find compelling, about Mark. I promise…because I've been into the radio-active sea monster since I was a kid; another story, for another day.
Mark Murdock – The Phoenix Has Risen (all music and words by Mark Murdock except song #07; Cary Bialac and Mark Murdock)
Tracks
01: The Phoenix Has Risen
02: Reoccurring Dreams
03: Heal My Wounded Soul
04: Compromised
05: Exit Door
06: The Starfish and the Four Phases of the Moon
07: When Thoughts Collide
08: Silence on Empty Streets
09: All Fools Fade Away
10:The Unknown Man
11: Set Your Heart On Fire
12: In The Future Of
Musicians
Mark Murdock- drums, synthesizer, piano, orchestra horns, percussion, and backing vocals
Tim Pepper- lead vocal
Daniel Kubota- guitar
Kenta Shimokuni-bass
Katsumi Yoneda- guitar on songs 2, 3 & 12
Joe Berger- lead guitar on song 1
Preston Murdock- lead guitar on songs 4 & 7
David Rambeau- guitar on song 7 & acoustic guitar on song 8
Tatsuo Inoue-rhythm guitar on song 6
Rodolfo Falora- bass on songs 1, 6 & 9
"Uncle G" RATES…Mark Murdock – The Phoenix Has Risen (2020)
Using a one to five-star rating system whereas one star means it sucks a soggy noodle and to completely avoid, to five stars which means that not having it in your personal music collection would bring shame and disappointment on not only you but your whole family…"Uncle G" rates Mark Murdock – The Phoenix Has Risen…4 shiny stars! Worthy of spending part of your paycheck on it. Mark's music usually is. That's why I requested a reviewer's copy from another sourse, and not a signed CD from Mark in the mail, in which btw, I would still like to have. A surprise to him that I'm doing this write up. He thinks I only do stories about cannabis now. Just living the life of Riley here in fabulous Las Vegas. True, until one day here recently when I saw a press release about Mark's first solo album, and decided I wanted in.
Promotion: Glass Onyon PR (William James) – www.glassonyonpr.com
The Official Facebook Page of The New Empire www.facebook.com/thenewempiremusic