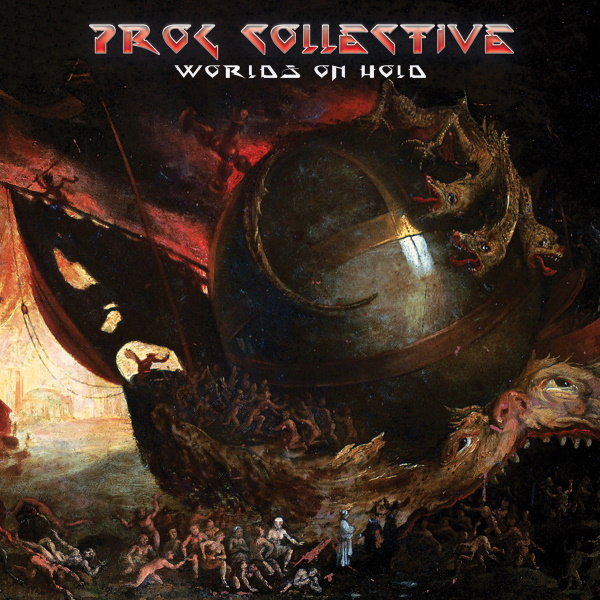 I love the spacy keyboard intro to the lead-off composition and also the title track of the new Prog Collective album; Worlds On Hold. The musicianship contained within will blow the socks off, assuming you are wearing them. On this particular composition, three seasoned professionals. Two of them are focused on one particular task, while the third one is going to town doing everything else, bass – drums – guitars – keyboards, plus all the behind-the-scenes tasks; assembling, mixing, producing, coffee runs…all the same guy. A lot of different hats. This very same man proceeds to continue to do so throughout the album, be it completely new material, or on some of classic rock's most beloved tunes; cover songs. I have a digital reviewer's copy. With my Sennheiser headphones, the album sounds borderline, incredible. The vinyl version has new songs on one side and the tribute stuff on the other. Clever!
Who were the names of the musicians; 01 – 02 – 03 you ask? On vocals – Number One; Todd Rundgren. Does a fabulous job! This could be the best song, as far as the new stuff goes? And right off the bat. To early to judge. Only the beginning.
The main subject of that opening number, and one that seems to be consistent throughout; COVID-19. Really just dealing with it. The reality that a pandemic is actually going on, affecting every human being on the planet.
On the subject; quarantine
"Killing time. Killing time"
Todd's vocal presentation is, in your face! On the eerie side, as is the music behind it.
"No more gathering. No more handshaking"
"Killing time. Killing time."
Musician Number Two: L. Shankar (violinist) – A super impressive history including that of working with, Frank Zappa, and Peter Gabriel.
Worth mentioning. Nice keyboard outro at the end of the title track, Worlds On Hold. Front and back remind me of the Steve Miller Band and what you might hear on one of their greatest hits. And that's high praise from this sometimes, still-going, midnight toker. Played by musician number three. Yes and Asia bass player; Billy Sherwood.
On a personal note, and before I go any further, I do not want to label or give the idea that this brand new batch of Prog Collective tunes, when presented as one album, is a concept album themed around COVID-19. According to Billy Sherwood, it's not. The lyrics which are penned by Billy, a lot of times project hope, which is seriously needed even when not facing a pandemic. That said, the messages contained within are not all, Roger Waters despair. That man is a well-known progressive rock artist, that most of you are aware of who is reading this. One of prog rock's inventors. Like Mr. Waters, Billy Sherwood's lyrics and music can and do make you think, as well as entertain, but not feel suicidal, which can be a side-effect of listening to Roger Waters for too long a length of time.
The second track is called; Two Trajectories. Has a hard rock edge to it. The very definition of what exactly prog-rock is. Outstanding vocal appearance by Geoff Tate. And then an electric guitar solo that smokes almost as much as the man's hot sauce; Ron 'Bumblefoot' Thal. Back in 2019, before COVID-19, I met him in Las Vegas right after his Asia rehearsal. Was accompanied by a pretty lady; expected.
The headliner that evening is a legendary band that originated from England, back in 1969; Yes. At the old Hard Rock Hotel and Casino. Now it's a new Virgin on the old scene. A big celebration of progressive rock that evening. Even Roger Dean was there. I met him too. I told the stories about Ron and Roger before. Both men were very cool to me; thanks again, guys.
Ron 'Bumblefoot' Thal's guitar work on Two Trajectories, stood out to me right away. On first listen, when the song was over, I immediately played it again. Mr. Thal's as good as one acquainted with his playing would expect from him. The rest is Billy Sherwood. I have said in the past many a time, that I like my prog-rock to actually rock every once in a while. This qualifies! Billy, the multi-instrumentalist does not disappoint on this track, whatsoever. True rocker!
Anything But Goodbye, track number 03, is a Yes reunion of sorts. From my favorite Yes album, on the keyboards, it's Patrick Moraz. The playing is kind of jazzy/upbeat. Starts off with Mr. Moraz and proceeds with Yes vocalist Jon Davison. If keeping score, Billy's credits also include backing vocals. Anything But Goodbye is one of the best original songs that I heard Jon Davison on since I became aware of him when he joined Yes, almost a decade ago. A solid musician. Two studios with Yes so far. And his own music is worth exploring.
The fourth composition is something I might describe as just a plain and simple pleasant rock song. It's upbeat with standout vocals/harmonies. Entitled; Meant To Be. The lead guitarist and the only guest player on this song, back in the day worked with original Yes guitarist, Peter Banks (rest in peace). That would be the sensational; Jan Akkerman.
Brave New World, is the 5th composition on this album. I know how much I like the title number, but this could be the best song as far as the new music goes. Accounts on taste and your favorite tune may vary, or change because each offering has something in it, a hook or chorus, that sticks in your brain. Helping Billy Sherwood swing this almost six-minute track out of the park is from the band, Curved Air, Sonja Kristina (vocals), and on lead guitar, Steve Hillage. He does a nice solo around the middle part. Drums, bass, keys, and all that jazz are a perfect gel. And it's a happy song unless, in the Brave New World, humans are eaten by three-legged 50-foot monsters from the planet Loose Stools who claim to have come in peace. That would be a bummer.
The sixth offering of new material is called; Glory Days Ahead. It's is a nice A-Side closing number. Perfect in the lead vocal position; Arjen Anthony Lucassen. I'm hard on vocalists. Not that I hate them all, or find them useless. Pros and cons, which when it pertains to rock music, is typical high school poetry, and which is usually sung by those who usually can't read music nor play a musical instrument. Helps to be under 25 years of age. Nowadays it's not even a requirement that one knows how to sing, to be a singer; autotune. Billy plays in Yes. Known for their beautiful vocals and harmonies. Hats off to those keeping it real! Plus, Glory Days Ahead include Steve Hackett on guitar. His playing is always worth the price of admission.
My overall opinion concerning the six new Prog Collective songs is that even inspired by darkness and uncertainty, Billy Sherwood managed to create some of the best Prog Collective songs to date, musically and lyrically. Possessing good work ethics and being an eternal optimist, as Billy has described himself, could very well be the key, or at least vital ingredients in what makes this third Prog Collective album, a successful endeavor. But wait…I'm not done yet.
The B-Side – Tribute Songs
A nice selection from prog-rocks past. When I was younger, the older folks called it hippie music. I had long hair back in the 1970s when I was a teen. Grew up listening to these songs, almost on a daily basis; AM and FM mostly radio out of New York City, NY (USA).
I received my GED and was working a full-time job at age, sixteen. I bathed regularly. A hippie when it came to certain things like; marijuana and free love. In appearance, I was tall and skinny with a bubble butt that would get me not only free drinks but offers for sex from both sides of the aisle, as well. My long curly blond hair probably had something to do with it. I just always hated haircuts. Halfway down my back at its longest. From the back, I did kind of look like a chick. In the summer way back when, I'd wear real short cut-off jeans, and a rock n' roll tee shirt. I'd get stopped walking down the street by people offering to have sex with me. Seriously. Not every day, but a lot of times. I'll yell obscenities at them and chase them away.
Four new cover tunes, all well done and including wonderful musicians known in the field of Progressive-Rock. For example, a rousing version of Peter Gabriel's Solsbury Hill performed by a guy I saw with his band, The Flower Kings, more than two decades ago; Prog-Fest '97 (Los Angeles, CA USA). Outstanding show! On vocals, Roine Stolt, and everything else is played by Mr. Sherwood.
Another one I enjoyed was another song from 1967. Entitled, A Whiter Shade Of Pale, by Procol Harum. I was lucky and in 1993 saw the band do this song live. A rock n' roll masterpiece. For the band, it was a debut single that rocketed them to stardom. In this reimaging of the classic, the execution could not be anymore, spot on. Graham Bonnet on vocals and a keyboardist that I've been listening to, since his days with Alice Cooper; Derek Sherinian. He's played with the best. Is a hard-rocker, and has a new studio out that I keep meaning to buy; Derek Sherinian – The Phoenix (2020).
The big hits Eye In The Sky from The Alan Parsons Project which was originally recorded in 1982 and again from the year 1967, The Moody Blue's Night In White Satin, round out the re-recording of tunes that helped shape progressive rock into what it is today. Great players involved; Joe Lynn Turner (Vocals) / Martin Barre (lead guitar) / Davis Clayton-Thomas (vocals) / Geoff Downes (keyboards).
Bonus Tracks
We end with three older cover songs already in the can, produced by Billy Sherwood. A lady friend I have here in Las Vegas made me promise not to play the last track ever again in her presence. Having such nice cleavage, I pretty much immediately responded; "Okay." The original version, a popular tune that helped kick in prog-rock, as we know it. By, The Doors: People Are Strange (1967). I think it's more her admiration for the late Jim Morrison and her strong feeling that anyone else doing the song is committing a crime, that is the real reason she believes this cover version sucked through a Starbucks bio-friendly long paper straw.
Boston's More Than A Feeling could have come off better. Done entirely by those associated with, Yes. If a Yes Collector such as I, regardless of my verdict, the song is still a must-have. Maybe it will grow on me? I've gotten used to wearing a mask when going outside, nowadays. Anything is possible.
The gem of the three is the late John Wetton, doing a marvelous job on The Beatles: Penny Lane (1967). I miss hearing the firemen bell. Whose idea was it to exclude that? Oh well…if you don't eat your meat, you won't get any pudding. Wait…that's another tribute album Billy produced. My final answer; all three numbers, better released than sitting on a shelf.
"Uncle G" RATES…Prog Collective – Worlds On Hold (2021)
Using a one to five-star rating system whereas one star means to totally avoid, to five-stars which means it's safe to open your wallet and purchase immediately, "Uncle G" rates this outstanding Billy Sherwood production; 5 STARS! Just the new material and not those three tracks at the end. Damn near everything having to do with COVID-19 is bleak. The pandemic for a while kept people indoors. Creative people got creative. Here is one result. A real cool rescue boat in a sea of turds. As conveyed; better days ahead.
Uncle G's Helpful Web Links
Promotion: Glass Onyon PR: www.glassonyonpr.com
Cleopatra Records, Inc.: www.CleopatraRecords.com
Purple Pyramid Store (buy now) https://cleorecs.com/store/shop/prog-collective-worlds-on-hold-cd/